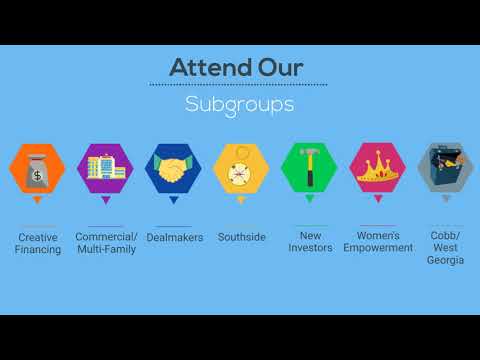 Look what's coming soon to GaREIA!
Click on the image for more details.
read more
What You Get From the Full Program
25 hours in-person class time
4.5 hours conference call discussion time (calls are recorded for later playback)
Three one-on-one personal consultations with Coach, each backed by a lot of emails and work between Student and Coach:

Discuss the student's stock portfolio; asset allocation, diversification, return, risk and fees being paid. Coach's goal is to get all students properly allocated, diversified, earning at least 10% / year long term, minimize risk, and eliminate most if not all fees by using ETF's and funds
Discuss the student's real estate portfolio, helping with strategic decisions like sell or keep, exit strategies, tax ramifications, etc.
This final session is on budgeting; must vs. discretionary expenses; help student to determine, "how much income do I need to be financially independent and how/when can i get there?"
A private online discussion google group for participants and coach for discussion and questions
The Mastering Passive Income coaching program is one of the highest rated educational programs offered at GaREIA.
About 120 students have participated in this program and ALL have stated it was helpful in their real estate career, and ALL have said they would recommend it to others!
Registration Info – Registration Ends April 10
$597 for GaREIA Members
$797 for Non-members
_____________________________________
$797 for GaREIA members
$997 for Non-members
_____________________________________
Other Info:
In person classes:  GaREIA Headquarters
Conference calls: via conference call
Lunch provided at in-person classes
Save $$$ with Early Registration through April 7!
read more